Risk -based scoring or biomarkers to predict severity, outcomes and early deterioration may assist in the disease management, workflows and ICU capacity
Remote monitoring systems reduce the risk healthcare workers
An ICU command center can be utilized to manage patient flow and match patient needs with available resources
Integrated tele-critical care technology platforms can be used as a tracking, predictive and management tool
TeleICU clinical decision support tools and tiered staffing models can assist in reducing staff burnout and stress
The critical shortage of ICU capacity, staff during COVID is a phenomenon that will persist even in the post COVID era and is forcing hospitals to rework their ICU models to create the models of care that restructure the workflows and payment models to provide quality critical care to most patients.
The COVID-19 crisis has brought the current shortcomings of critical care models into sharp focus. Delivery of critical care has been significantly impeded by a lack of resources, scarcity of effective prediction models to guide patient care, and, of course, the lack of effective pharmacotherapies.   An equally important or potentially even more pressing problem is the shortage of trained skilled ICU physicians and nurses to treat critically ill patients.
Hospitals have been creative in developing innovative hospital capacity protocols and care models to create resource flexibility and to limit system overload.  In many cases, an ICU attending and experienced ICU nurse are placed in oversight positions managing a larger team with the support of a telemedicine and AI based clinical support tool, as per the below figure 1.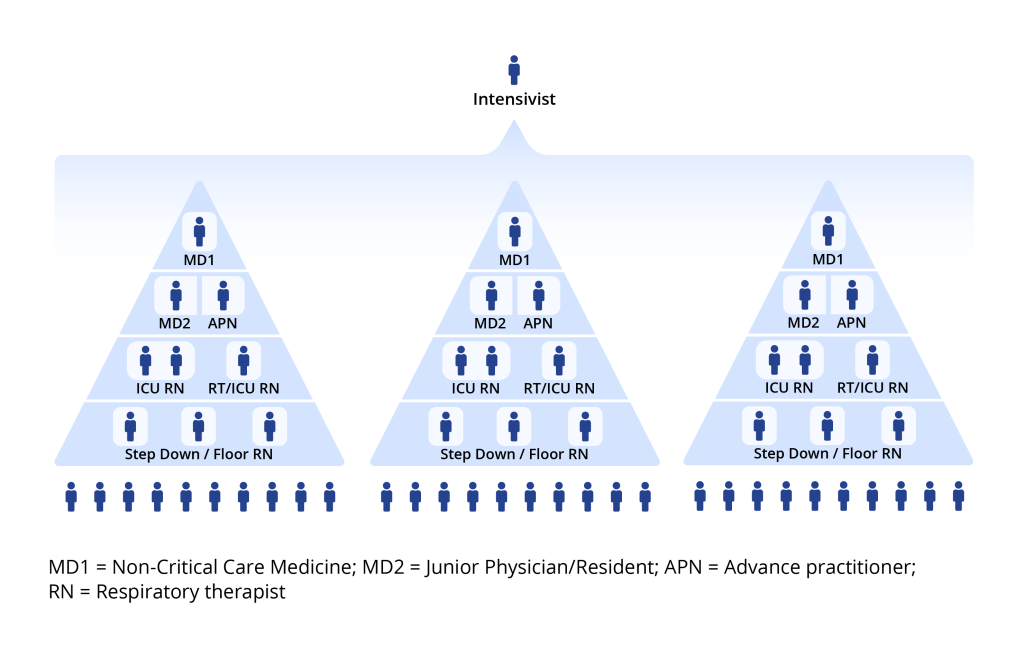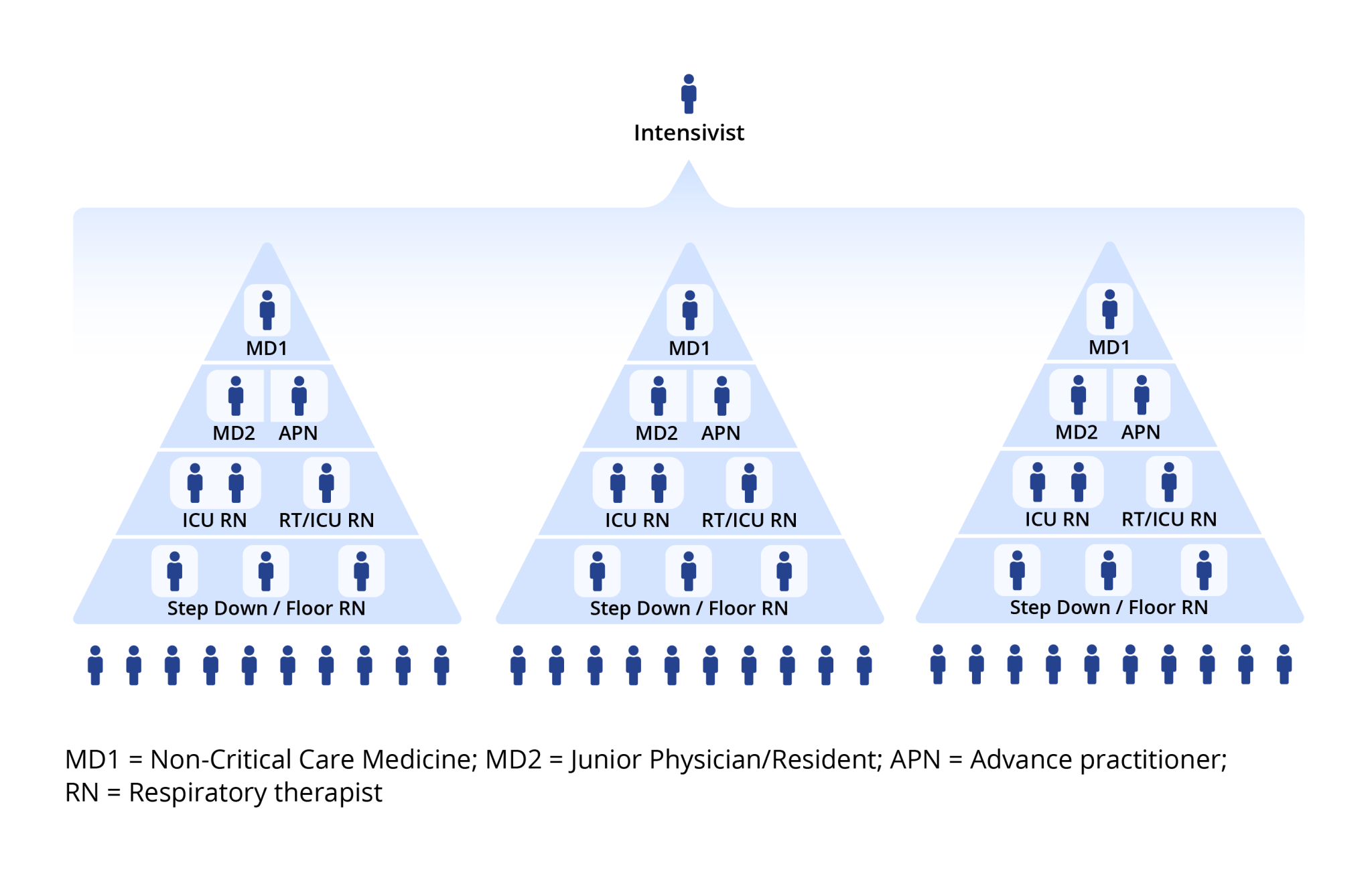 Figure 1: Care team model for extending the capacity of ICU clinicians
Adapted from Aziz S, et al
However, even once the COVID-19 crisis has somewhat abated, these Innovative models are key steps to managing the baseline key skills shortage in the critical and intensive care setting. These are needed to create sustainable and cost-effective models to support the ever-growing critical care population, while at the same time not compromising on quality care.
Resource, Recognition and Risk Prioritization models to support the intensivist staff shortage
A publication by critical care specialists from Jiansu and Beijing provinces,  recently published their learnings during COVID of key recommendations to deliver quality critical care in the midst of the pandemic. These included recommendations for lack of critical care resources, early recognition and treatment of critically ill patients and disease management in the ICU (fig 2 below)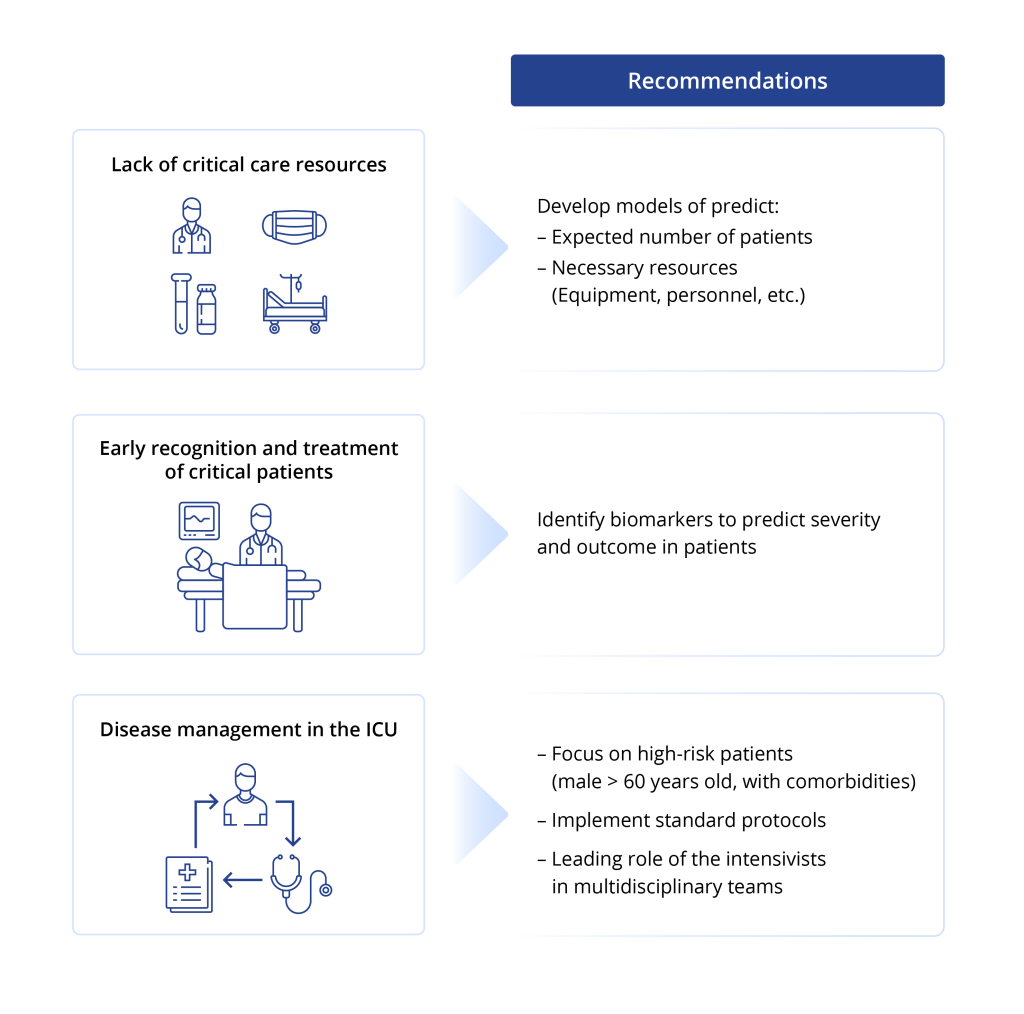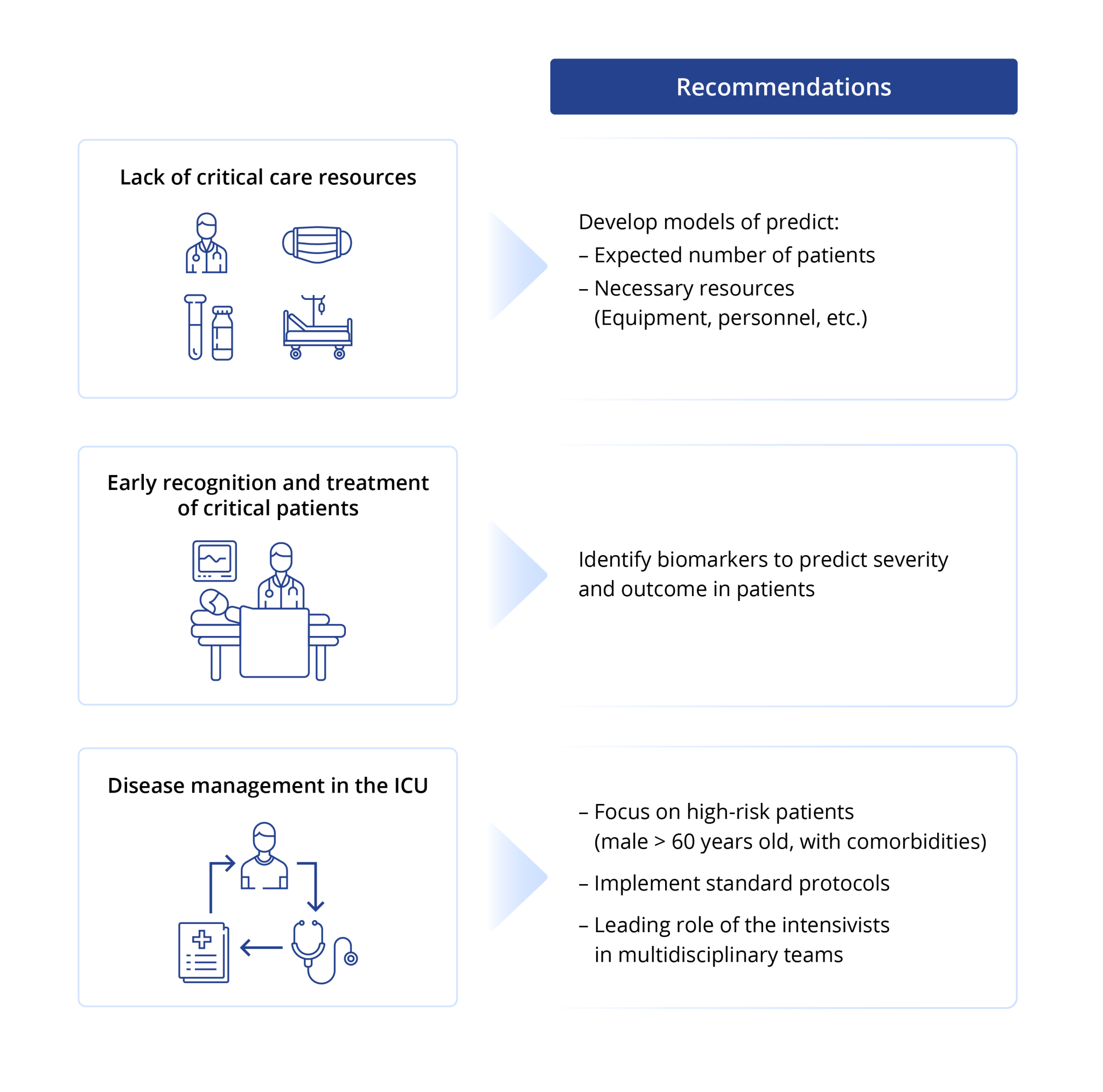 Fig 2: Some recommendations to face the critical care crisis due to the COVID-19 epidemic
Adapted from Xie J, et al
Many of these principles have been adopted in various tailored forms by hospitals worldwide and many are expected to continue the models that have developed out of the crisis. The authors suggest that the use of risk -based scoring, or biomarkers to predict severity, outcomes and early deterioration in critically Ill patients, may assist in the disease management of critically Ill patients as well as assisting with workflows and ICU capacity, thus optimizing up the precious ICU clinician and nursing resources. In addition, minimizing high risk healthcare workers physical access to patients and allow them to safely work through remote monitoring systems is vital in the current pandemic. This may also be necessary for future infectious disease pandemic scenarios.
Society of Critical Medicine highlights: A Control and Command Center – the central pivot of telehealth critical care technology tools
The Society of Critical Medicine published 2020 guidance on configuring ICUs in the COVID-19 era and these recommendations hold important lessons for the care of critically ill patients going forward in the post COVID era. The guidelines propose 2 models appropriate to the context of care. A single 24/7 triage clinician position supported by an ICU dashboard, local ICU leaders, and the hospital's patient flow center is suggested for a smaller resource-based hospital setting with only a few ICUs (traditional plus novel). This single triage model may be enough to manage and balance patient allocation among ICUs. However, in a larger population, tertiary or quaternary medical center that supports a wide healthcare network the requirements differ substantially. The second model proposed for these large centers is a global ICU command center to oversee critical care activities across the hospital or network. The primary functions would be to manage patient flow from multiple entry points – incoming critically ill patients from the ED, decompensating patients on wards, and transfers from EDs and ICUs of affiliated network hospitals. In areas where "pop up "ICU's have been set up to cope with the surge in patients requiring critical care, the goal is to match patient needs with available resources, taking space, staff, staff skill sets, and clinical devices into consideration. This is no easy feat, as critical care clinicians or redeployed non-critical care clinicians, may be managing and delivering care in rapidly converted spaces and settings, with each area having the need for specific clinical resources.
One way of helping the network command center view the full capacity, patient, and resource landscape in real time is to use an integrated tele-critical care technology platform as a tracking, predictive and management tool. In this way, control and command center staff can monitor all ICU patients using an array of real time data streams (EMR, bedside physiology, ventilator, alarm, laboratory, and radiology) to render informed decisions without delay. Front line critical care clinicians desperately require these tools to optimize their care delivery.
Supporting the peripheral areas
The position paper also includes suggestions for the control and command center to act as a critical care hotline for the local novel ICUs as well as satellite hospital ICUs to link clinicians across sites, establishing a key support network system for non-ICU clinicians in outlying areas. This comes off the back of data showing the disparities in ICU resources in more peripheral areas. A study published by Halpern et al, in 2019 showed that compared with hospitals without intensivists, hospitals with privileged intensivists were primarily located in metropolitan areas (91% vs 50%; p < 0.001) and at the aggregate level had nearly 3.6 times the number of ICU beds (74,222 [78%] vs 20,615 [22%]), and almost twice as many ICUs (3,383 [65%] vs 1,846 [35%]). At the hospital level, hospitals with privileged intensivists had significantly more hospital beds (median, 213 vs 68; p < 0.0001), ICU beds (median, 32 vs 8; p < 0.0001), a higher ratio of ICU to hospital beds (15.6% vs 12.6%; p < 0.0001), and a higher number of ICUs per hospital (2 vs 1; p < 0.0001) than hospitals without intensivists. Therefore, the benefits of a TeleICU decision support tool may be an even greater strategic goal for the non-metropolitan areas where critical shortage of skilled intensivists, could benefit even further from support decision models and remote consulting with other higher-tiered intensivists.
Considerations regarding skilled ICU staff burnout and who will be left to function effectively in the post COVID-19 era
Turning to matters of a more sensitive and individual level, the ICU can be a stressful environment for both patients and health care personnel, and burnout is not uncommon among ICU clinicians. COVID-19 has significantly amplified the degree of burnout being experienced by clinicians working in this setting. Critical care physicians now top the list of physicians experiencing burnout, at 51%, up from 44% last year, according to the Medscape report 'Death by 1000 Thousand Cuts': Physician Burnout and Suicide Report 2021. TeleICU clinical decision support tools and tiered staffing models could assist in reducing this burnout by optimizing the hours of highly skilled intensivists to guide and direct the team on shift, reducing the stress of making decisions alone without support due to the high patient burden and low staff ratio. Our critical intensivists, physicians and nursing staff are a precious resource that cannot be replaced and deserve the highest priority of novel approaches to ensure that they are supported with the best tools that technology offers to reduce their levels of stress and enable them to deliver optimal care to their patients.
CLEW introduces the first cleared AI-based predictive analytics platform in support of adult ICU patients.
CLEW have dedicated years of research and collaboration with ICU intensivists and clinicians to develop an AI-based predictive analytics platform designed to address the needs of the growing shortage of ICU intensivists and clinicians when faced with a growing population of patients requiring intensive care. The critical skills shortage is a growing crisis that needs to be addressed. The pandemic has simply intensified and amplified these challenges. CLEW is proud to be able to offer cutting edge AI-based critical care platform support tools to address this important ongoing need.  CLEW's TeleICU solution delivers actionable predictive clinical analytics, optimized patient workflows and clinical resource allocation as well as centralized oversight and management. The platform utilizes the full range of available patient data to provide continuous predictions based on sophisticated artificial intelligence (AI) algorithms and machine learning models. The solution delivers workflow improvements and dynamic worklist prioritization, enabling intensivists, physicians and nurses to spend less time on administration and more time on delivery optimal care to their patients.